During the Congress have been conducted research and training activities.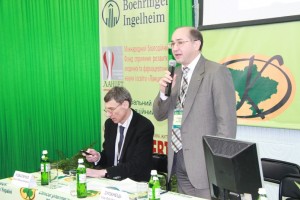 Thus, during the scientific workshop "Experimental and clinical research of drugs" ZupanetsI., A.Zimenkovsky, Aleksander Barinov, senior researcher of Neurology and Clinical Neurophysiology Department of the I.M. Sechenov First Moscow State Medical University delivered the reports. At the workshop were discussed such issues as adverse reactions associated with the use of drugs as a tool of applied clinical pharmacy, drug bioequivalence studies in Ukraine from the perspective of EBM and Clinical Pharmacy,  interaction of drugs as a risk factor for the development of medical errors, development of the system of quality assurance at clinical research.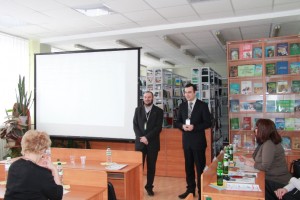 In educational seminar "Issues of the training of clinical pharmacist" presented such reports as the introduction of "Protocols of pharmacist" in the curriculum of students enrolled in the specialty "Pharmacy", introduction of integrated license exam KROK-2 into the curriculum of students in "Clinical Pharmacy", pre-postgraduate education in "Clinical Pharmacy". There was also provided information on clinical pharmacy in higher pharmaceutical education in Kazakhstan. In addition, there was presented the first edition of the textbook "Clinical Pharmacy".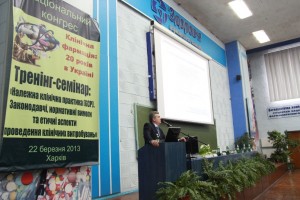 There were conducted training seminars on good clinical and pharmacy practice. Anatoliy Moroz, professor, deputy executive director of State Enterprise "StateExpertCenter" of the Ministry of Public Health of Ukraine reported on legal regulation of clinical trials in Ukraine. There were discussed issues such as the practical aspects of clinical trials in Ukraine, documentary support of clinical research, audit of clinical research and ethical aspects of their conduction. Elena Lischishyna, director of the medical services standardization department of SE "StateExpertCenter" of the Ministry of Public Health of Ukraine reported on the GPP requirements as the basis for development of standards for pharmaceutical services in Ukraine.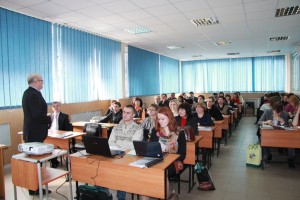 The participants shared their experiences in the development and implementation of standards for GPP in the UK, the Republic of Moldova, and Ukraine. Inna Demchenko, first deputy chairman State Medical Service of Ukraine, spoke about the implementation of these standards in the legal framework of Ukraine, and Mikhail Pasechnik, President of Pharmacy Professional Association of Ukraine, focused on their development in our country.
Clinical Pharmacy – integrated science that combines pharmaceutical and clinical aspects of pharmaceutical science,        promotes creation of theoretical and methodological basis for the rational use of medicines in clinical practice. Clinical pharmacy may permit to optimize drug treatment, pursuing the main goal – to improve the health of the nation. Conduction of such a Congress at such level in the pharmaceutical capital of Ukraine indicates that the clinical pharmacy in our country is actively developing and that national health care system is on the right track.
22.03.2013 the National Congress «Clinical Pharmacy: 20 years in Ukraine»