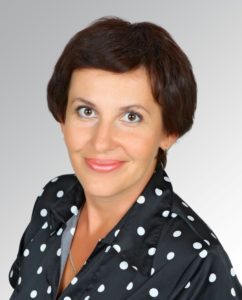 Khokhlenkova Natalia Viktorivna- Doctor of Pharmacy, professor Drugs Technology Department
Address: Kharkov, str. Valentynivska, 4
Phone (0572) 67-91-84
E-mail: tl@nuph.edu.ua
Autobiography
Khokhlenkova Natalia Victorovna was born November 20, 1973 in Kharkiv.
In 1996 graduated from the Ukrainian Academy of Pharmacy specialty "Pharmacy", qualification – a pharmacist. In 1998 he graduated from the master's pharmacy and received master degree in pharmacy.
From 1998 to 2003 – Analytical Chemistry Laboratory of the State Research Center of medicines (from senior laboratory assistant to the researcher).
In 2002 she graduated from the National aerospace university 'Kharkov Aviation Institute and received a second degree in "Quality, standardization and certification."
In 2004 she defended her candidate thesis on "Development of technology and research ointment" Prolidoxyd '. "
Since 2004 – assistant , since  01.09. 2005 to the present – assistant professor of Drugs Technology Department
She performed duties of Secretary methodological department meetings (2004-2005), responsible for the scientific work (2005-2008). From 2008 to present – responsible for the methodical work of the department.
In 2013, defended her doctoral thesis on "Theoretical and experimental study of pharmaceutical development of drugs based on oak bark for the integrated treatment of wound healing."
Since 2017 – Professor of Drugs Technology Department, in the same year he was awarded the title of Professor of the Drugs Technology Department.
Social activities:
– Member of the committee of professional expertise on drugs technology of Testing Center of Ministry of Health of Ukraine;
– Member of approbation commission of National University of Pharmacy, specialty 15.00.01
– Member of the methodical commission of technological disciplines of National University of Pharmacy
Scientific school:
Scientific school Khokhlenkova N.V. has 3 candidates of pharmaceutical sciences. Now under her guidance performed 1 candidate thesis (Shevina V.L.)
Major areas of research:
Development of technology and biopharmaceutical research of medicines based on natural materials;
Scientific personnels:
3 candidates of sciences:
Buryak  Marina V. "The technology of thick oak bark extract and create ointment on its basis", 2012
Kupriyanov Olga " Development of antiseptic medical dressings with the use of raw material of natural origin ", 2012
Iroko Emamuzo Matthew "Development of composition and technology of dental gel based on raw materials of natural origin ", 2017
Publishing: Khokhlenkova N.V. is the author of over 250 scientific and methodical works. Among them, 2 monographs, 221 scientific articles and 34 manuals and guidelines, 12 articles in periodicals included in the Scopus database, 12 patents, 6 informational letters, 6 copyright certificates.
Teaches disciplines:
Pharmacy-based technology of drugs;
Technology of drugs;
Biopharmacy$
Methodology and logic of scientific research;
medicines for special purposes
modern pharmaceutical development