Within the framework of a bilateral agreement between the National University of Pharmacy and South-Kazakhstan State Pharmaceutical Academy (Shymkent, Kazakhstan) on methodological and scientific cooperation from December 6, 2010, to implement the provisions of the agreement on implementation of academic exchanges, the NUPh in May hosted two groups Kazakh students.
Second consecutive year the best students of South-KazakhstanStatePharmaceuticalAcademy on a competitive basis have an opportunity to visit the National University of Pharmacy for the practical training. Because the NUPh is perceived in Kazakhstan as the founder and pioneer of higher pharmaceutical education in CIS countries there is a large number of applicants that submit applications to participate in the competition.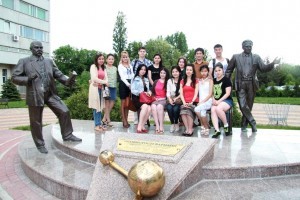 The NUPh doors are wide open for everyone who wishes to grow professionally. Thus, at the Department of Pharmaceutical Chemistry from 13 to 29 of May 4th current year course students of South-Kazakhstan State Pharmaceutical Academy underwent manufacturing practice in "Quality control and certification of drugs", and from 13 to 21 of May at the Department of Industrial Pharmacy and Department of Industrial Technology of Drugs manufacturing practices in "Technology of medicines" underwent students of the 5th year of South-Kazakhstan State Pharmaceutical Academy.
The NUPh Rector, Professor V.P. Chernykh met the delegations from Kazakhstan.
During the meeting Valentin Petrovich told Kazakh students about the university that he leads, expressed confidence that the partnership that has been developed between the two educational institutions will be strengthened. "Your country is far away, but the students and teachers of your academy visit us, as our professors and associate professors visit you with series of lectures. And it should be like that. Indeed, despite the rapid development of informational technologies of communication, the main way of "sharing" intellectual achievements of scientists, the main method of "delivery" of knowledge across the borders is trips of students and teachers. One of the primary challenges of higher education institutions today is training of specialists who can work effectively in the global market. Its performance can be provided by public educational space and academic mobility, "- said Professor V. P. Chernykh. Those students who see their future in teaching career or science, the NUPh Rector invited to study in postgraduate school: "Our science is at a high modern level, we have a great scientific potential and decent facilities for researches. You will get not only a considerable amount of knowledge – we'll provide you with topics focused on the needs of your state. Your country is very rich. It is rich in people's intelligence, potential of young people who have a desire and opportunity to develop the state. Be forward-thinking, seek for knowledge. Self improvement – is non-stop process ", – said Valentin Petrovich.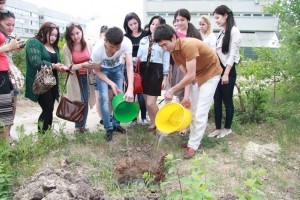 D.Sc. in Pharmacy, Professor B.A. Sagindykova in her speech and answers thanked for hospitality. "The NUPh has very powerful pharmacy schools. Your university is considered a leader of Industry-oriented education and science, we look to you – said the the head of the group of students commenting on the stay in our university. – For our students was organized a series of activities to improve knowledge in the specialty, to obtain practical experience in laboratories and at the departments of the NUPh, to visit the leading plants. Our students worked at the Department of Industrial Pharmacy and Industrial Technology of Drugs, the lecture was given and the practical classe was conducted. We visited Ukrainian company "SSCD", "ZDOROVYA" and "DARNITSA" and have a clear understanding of pharmaceutical production in Ukraine. I think our students after this practice at home will have something to share with their friends, course mates, teachers, moreover, that, upon returning home, they will hold a     summary conference. We "bring" from NUPh valuable knowledge and positive experiences".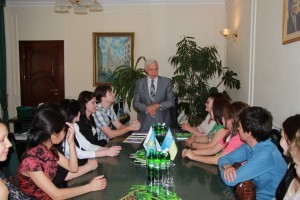 The cultural program was prepared and implemented for Kazakh students. They had an excursion tour around Kharkiv, the NUPh and Museum of the History of Pharmacy. For their part, the guests from Kazakhstan made a gift to the university – planted in the botanical garden young plants of pomegranate tree, walnut-tree and oleaster (garden form of silverberry).
During the stay of Kazakh students in our university we were able to communicate with them.
 "There are always many students wishing to undergo manufacturing practice at the National University of Pharmacy, however this opportunity is given only to the best students", – said the head of a group of Kazakh students, lecturer at the Department of Pharmaceutical and Toxicological Chemistry of South-Kazakhstan State Pharmaceutical Academy, postgraduate student of the Department of Industrial Pharmacy of the NUPh Vladimir Korotkov. – Several years ago, as well as current students, I was qualified and first came to Kharkiv. For me a visit to the NUPh was extremely important, because, except for new impressions and valuable experiences, I received an invitation to study at postgraduate course of the NUPh. I hope that familiarization with this respected educational institution will be the same significant event for students of our Academy who came to Kharkov this year. "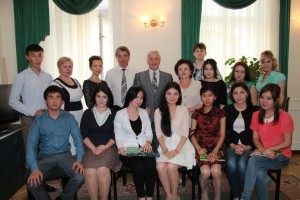 Boys and girls from Shymkent were extremely pleased to visit Kharkov. "About our trip to the National University of Pharmacy, I dreamed so much that even did not immediately believe that I was about to visit in Ukraine – confessed 4th course student of the Faculty of Pharmacy of South-Kazakhstan State Pharmaceutical Academy Guzelya Adrahimova. – Now all of us are just overwhelmed with emotions. Very good impressions are caused by hospitable, open Kharkov, your beautiful green city. We are delighted to discover your university: spacious buildings, well equipped laboratories, comfortable hostels. It is extremely valuable to us, of course, is communication with teachers and students of the university. "
Elena Yakovleva
Manufacturing practice of students from South-Kazakh State Pharmaceutical Academy (Shymkent, Kazakhstan)