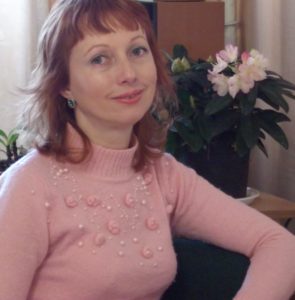 Tkachоva Oksana Vitalievna – doctor of pharmaceutical science (2014), assistant professor of pharmacoeconomics department (2007)
Address: 61168, Kharkiv, Valentinіvska str., 4, NUPh
E-mail:  ph-econom@nuph.edu.ua
Tel. /fax (057)65-88-95
Short biography
Oksana Vitalevna Tkachоvа was born on February 13, 1971 in Kiev. In 1988 she finished secondary school № 122 (Kiev), in 1995 she graduated from the Ukrainian Academy of Pharmacy on the specialty "Pharmacy" and received a recommendation for research. In Central Research Laboratory NUPh continued her career as a junior research assistant (1995-2002 gg.), and then research assistant (2003-2004 gg.). In 2003 she defended her thesis on "The Experimental study of the antiinflamminatory and reparative properties of unguents altani 2% and lipovit, created on base natural substance" in "Pharmacology". During 2004-2006, Tkachova O. V. worked as an assistant, and since 2007 ‒ an assistant professor at the Department of pharmacoeconomics. In 2009 Tkachova O. V. received a second higher education from the National University of Pharmacy in the direction of  "Economics of Enterprises". During 2011-2013 she studied at the doctoral NUPh under the state order. In 2014, she defended her doctoral thesis in "Pharmacology" on the theme: "Pharmacological study of new drugs that are based on natural substances and intended for the topical treatment of wound healing" and received the degree of Doctor of pharmaceutical sciences. Currently Tkachova O.V. works assistant professor of pharmacoeconomics.
Data about personal achievements (winning in competitions, award certificates, diplomas and other awards).
Tkachоvа O.V. received a certificate of honor NUPh in September 2016 for an honest and fruitful work, professionalism and contribution to the development of the university, dedication and on the occasion of the professional holiday – Day of pharmaceutical worker.
International activities (membership in professional associations, grants, business trips abroad, lectures, master classes)
Tkachova O.V. participates in the work the annual European Congress of pharmacoeconomic studies,  in the 2014-2016 received a grant from the International Society For Pharmacoeconomics and Outcomes Research (ISPOR). A member of the Ukrainian branch Inter-regional public organization of "Society of Pharmacoeconomics and Outcomes Research" , a member of the Association of pharmacologists of Ukraine, member of the organizing committee of the annual conference "Pharmacoeconomics in Ukraine: state and prospects of development".
Scientific activity
Research O.V. Tkachоva directed to pharmacological study of new wound-healing agents, as well as conducting pharmacoeconomic analysis of medicines for various diseases. Hirsch index – 3.
Membership in professional associations
Association of pharmacologists of Ukraine
International Union of General and Clinical Pharmacology (IUPHAR)
Disciplines taught by the doctor of sciences:
Pharmacoeconomics
Pharmacoeconomic bases of formulary system
Preparation of Pharmaceutical Representative
Fundamentals of health and medical insurance
Modern methods of biological systems research