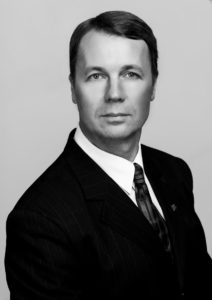 Sergii Vasiliovich Baiurka – head of the Drug and Analytical Toxicology Department of the National University of Pharmacy, Doctor in Pharmaceutical Sciences, Assistant Professor
Address: 61168, Kharkiv, 4 Valentinivskaya st.
Telephone: (0572)-679192
Е-maіl: toxchem@nuph.edu.ua
Curriculum vitae
Baiurka Sergii was born in 29.06.1968 in the village Grushino, Pervomayskii district, Kharkiv region, Ukraine.
In 1985 he graduated from Pervomayskii secondary school Nₒ 1 and the same year he entered the Kharkiv Pharmaceutical Institute (now it is National University of Pharmacy). In 1992 he graduated from the Kharkiv Pharmaceutical Institute with honors, he got the qualification of Pharmacist and continued his career at the Toxicological Chemistry Department as a senior laboratory assistant (1992) and then, in the same year, the assistant of Toxicological Chemistry Department. In 01.12.1995 he enrolled in postgraduate study at a distance from the production of the specialty 15.00.02 – "Pharmaceutical chemistry and pharmacognosy" at the Toxicological Chemistry Department of the National Academy of Pharmacy of Ukraine. In 1998 he defended his thesis on "Chemical-toxicological research of Phenikaberan".
He continued his research and teaching activities as an assistant (1998–2002) and then as an Associate Professor of the Toxicological Chemistry Department (2002–2016).
In 2016 he defended his doctoral thesis on "Development of methods for chemical and toxicological analysis of antidepressant medications".
Since 2016 he has been working as the head of the Drug and Analytical Toxicology Department of NUPh. His research work aimed at the development of methods for chemical-toxicological analysis of drugs of different pharmacological groups in the biological samples (biological material and body fluids), development of approaches to identification of organic poisons by the products of their biotransformation in a living organism conditions, development of screening approaches to identification of drugs in the extracts from the biological material in the general toxicological study. He is author of over 100 scientific papers, including: 3 patents, 12 educational and methodical guidelines, 8 teaching manuals, 2 information letter, 51 articles in the international and ukrainian scientific professional journals, conference proceedings and articles in "Pharmaceutical encyclopaedia".
Courses are taught by Doctor of sciences
V. Baiurka teaches the following disciplines "Drug and Analytical Toxicology" and "Toxicological Chemistry" for 4 and 5 year full-time education and distance learning students (specialty "Pharmacy"), disciplines by the choice "Pharmaceutical aspects of alcoholism, drug addiction and substance abuse" for 4-year full-time education students (specialty "Pharmacy"), the discipline "Toxicological safety of medicines" for masters in Pharmacy, the discipline "Toxicology" for students of the correspondence department of the Foreign faculty (specialty "Pharmacy"), the discipline "Fundamentals of Toxicology" for 4-year full-time education students (specialty "Technology of pharmaceuticals").