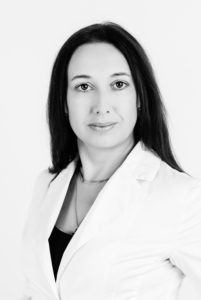 Bereznyakova Natalia Leonidivna – Doctor of Pharmacy, Associate Professor of Medicinal Chemistry
Address: 61168, Kharkiv, 4, Valentinivska St.
Phone (0572) 67-92-04
E-mail: natalibereznyakova@gmail.com
 Autobiography
Bereznyakova Natalia Leonidivna was born in 04.09.1972 in Saky, Crimea. In 1989 she finished Saky secondary school №1, and in 1993 completed training in Yalta medical vocational school  (in Pharmacy). In 1993 she entered the Ukrainian Academy of Pharmacy (today it is called the National University of Pharmacy). In 1998 she graduated from the Ukrainian Academy of Pharmacy and obtained qualification "Pharmacist". In 1999 she completed Master's training, got qualification "Master of Pharmacy" and continued her professional activity in the Academy vocational school (today – University's College) as a lecturer (1999-2003). In 2002 she presented Candidate thesis. Her scientific and pedagogic activity has started from the position of an assistant at the department of Medical Chemistry (2003-2004) and continued as an Associate Professor at the mentioned Department (2004-till now). In 2013 she presented Doctoral thesis on the topic «Synthesis, chemical transformations and biological properties of derivatives of 2-оxo-1,2-dihydroquinolin-3-carboxylic acids and their structured analogues» in speciality 15.00.02 – Pharmaceutical Chemistry and Pharmacognosy.
Scientific directions of Berezniakova Natalya research interests: – targeted search of BAC among derivatives of 2-oxo-4-hydroxyquinolines.
Author and co-author of above 80 scientific works, among them: 8 patents, 7 methodical guidance papers, teaching manuals, 35 papers, conferences materials and articles in the «Pharmaceutical encyclopedia».
Awarded with Certificates of Honor by the Ministry of Higher Education of Ukraine:
for applied research, the University image straitening and active municipal position (2013);
for scientific-research activity, significant individual contribution to the synthesis of new organic, biological active compounds, and development of scientific ideas of the outstanding scientist Pavel A. Petyunin (2014).
Disciplines that Doctor of Sciences lecture: Natalia Bereznyakova gives courses of the following disciplines «Medical chemistry», «Physical, chemical and pharmaceutical factors of bioavailability of medicines» to students in speciality «Clinical Pharmacy» in 4th and  5th years of full- and  part-time training, discipline «Research methods of medications metabolism» to Master-students in speciality «Clinical Pharmacy», disciplines «Pharmaceutical Chemistry» and «Standardization of drugs» to domestic and foreign students in 4th and  5th years of full- and  part-time training in speciality «Pharmacy».