In the 1920s the consequences of severe political cataclysms were given: ruin, famine, and raging illnesses were prevailed. Therefore, it is quite clear that one of the urgent tasks of the new authorities was necessity to restore and strengthen the system of medical care of the population. It was definitely not possible to do this without the preparation of qualifications.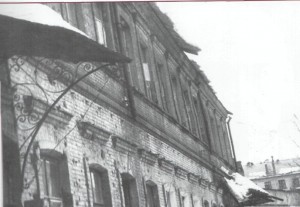 In 1921 the first pharmaceutical institute in Ukraine was opened in the metropolitan Kharkiv by the decision of the People's Commissariat of Health of Ukraine and Science. The term of study in it for students was three years, and for the specialization of analysts and manufacturers of chemical and pharmaceutical industry was four years. The Institute trained:
Pharmacists of the highest qualification of the pharmacy profile;
Specialists in the study of food and taste properties of substances, household items and specialists in forensic analysis;
Workers for the chemical and pharmaceutical industry.
In the first months the organizational bureau of the pharmaceutical institute has been formed and operated, including M.O. Valiashko, A. D. Rozenfeld, L. Y. Rosenfeld, J. M. Zilber, M. A. Tilman, M. P. Krasovskyi, P. I. Cheishivili.  M.O.Valiashko was the first rector, M. A. Tilman was the political commissioner , P.I. Krasovskyi was reffered for a position of the dean of the only faculty.
154 applications were submitted for joining in the first years of existence of the Institute. 93 people were accepted after colloquium, and 67 of them had already had experience in pharmacies. The second and third courses included students of the former pharmacists, as well as those who had sufficient pharmaceutical training, but did not pass the pharmacists' exams. In total, 42 people were accepted by the second and third courses.
The organization of the Kharkov Pharmaceutical Institute has become a model for the opening of pharmaceutical institutes in Kiev, Vinnitsa, Dnipropetrovsk. After the reunification of the western regions of Ukraine with the Ukrainian SSR in Lviv, the pharmaceutical department of the medical faculty of the Lviv University was transformed into a pharmaceutical faculty of the Lviv Medical Institute.