From October 2 to October 11, 2013 in Turkey took place the most enormous, not only on the country's scale, educational exhibition with international participation «International Education Fairs in Turkey».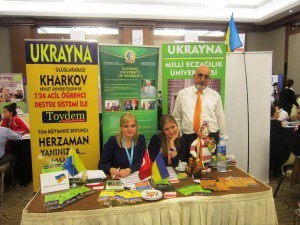 In the exhibition, which was held in five major cities of Turkey (Izmir, Ankara, Istanbul, Bursa, Antalya), participated more than 100 universities, language schools, recruiting companies from over 20 countries, including Ukraine (Germany, Canada, Poland, Great Britain, Turkey, France, Japan, China, Vietnam, the USA, Russia, Sweden, Hungary, Romania, Namibia, Estonia, Belgium, Australia, Slovakia, the Netherlands, Spain, Italy).
Ukrainian higher education institutions at the exhibition were represented by the delegation of the National University of Pharmacy, which for the third time took part in a similar series of educational exhibits at the invitation of its partner on recruitment of students from Turkey – «TOYDEM» Company.
Higher education in Ukraine is rather attractive topic for prospective students from Turkey and for their parents. General attitude towards Ukraine is very positive.
The results of the exhibitions were broadcast on the same day on the main TV channels in Turkey.
In greatest demand our university is among prospective students from such Turkish cities as Izmir, Ankara, Istanbul (European part). The biggest interest is in English form of training.
Young people from Turkey were mainly represented by pupils of vocational schools. And it means that the first results of the work, carried out during the exhibitions, are expected in the next academic year.
Leading specialist
of the Center for educational vocational guidance
 and external relations
Skripnik E.A.
[flagallery gid=32]