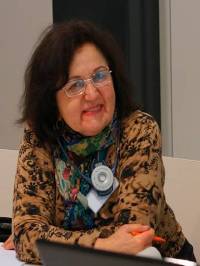 Iakovlieva Larisa V. – Doctor of Pharmaceutical Sciences, Professor (1994), Honored Worker of Science and Technology of Ukraine (2007), Head of the Department of Pharmacoeconomics (since 2004)
Address: 61168, Kharkov, Valentynivska st., 4
Tel./Fax (057) 658895
E-mail: ph-econom@nuph.edu.ua; iakovlievalv@gmail.com
Biography
Larisa V. Iakovlieva was born on August 19, 1947 in Balakleya, Kharkiv region, in a family of employees. In 1965 she graduated from high school with a gold medal, and in 1973 she received the Kharkov Pharmaceutical Institute (National Pharmaceutical University, NUPh) with distinction and received a recommendation for scientific work. Since 1977, he has been working as a senior laboratory assistant (1977-1978); Assistant (1978-1985), Associate Professor (1985-1992) and since 1993 – Professor of the Department of Pharmacology; From 1989 to 2013 – Head of the Central Research Laboratory of the NUPh; since 2001 – at the same time he has been the Head of the course since 2004. – Department of Pharmacoeconomy of NUPh.
In 1984, Larisa Vasylivna defended her Ph.D on "Search for non-steroidal anti-inflammatory drugs and the study of the dependence of anti-flutic activity on the chemical structure in the ranks of the derivatives of 2-oxoindoline and N-heterylsuccinan acids" and received a Ph.D. in Pharmaceutical Sciences., And in 1992, a Ph.D. Thesis on the topic: "Search and study of new nonsteroidal anti-inflammatory drugs – derivatives of dicarboxylic acids", received the degree of Doctor of Pharmaceutical Sciences, in 1993 – the title of Professor at the Department of Pharmacology, in 2007 – the title of Honored Scientist of Ukraine, in 2009 – the title of Distinguished Professor of Pharmacy.
Public activity: Professor L. V. Iakovlieva is a member of the Expert Committee on the Establishment of the National List of Essential Medicines of the Ministry of Health of Ukraine, "Pharmacy", the State Examination Commission on the specialty "Clinical Pharmacy", the specialized academic council D 64.605.03 in the specialty "14.03. 05-Pharmacology ", approbation scientific councils on specialties" 14.03.05-pharmacology" and "15.00.01- technology of medicines, organization of pharmaceutical business and judicial pharmacy ".
She is also a member of the editorial boards of the national scientific editions "Management, Economics and Quality Assurance in Pharmacy" (NUPh), "Clinical Pharmacy" (NUPh), "Biopharmaceutical Journal" (NUPh).
Scientific school: Under the direction of prof. L.V. Iakovlieva defended 27 candidate and 7 doctoral dissertations, 1 doctoral dissertation and 4 candidate's are in work.
Scientific works: For 42 years of scientific and pedagogical activity, Professor L. V. Iakovlieva is a co-author of more than 1500 scientific works, including inventions – 69, patents – 128, monographs – 5, articles – 615, abstracts – more than 650, teaching aids in co-authoring -38, methodological developments for the educational process in pharmacoeconomics – 16, scientific methodical recommendations – 16.
Membership in professional associations
International Union of Pharmacoeconomic Research (ISPOR);
Association of pharmacologists of Ukraine;
International Union of General and Clinical Pharmacology (IUPHAR);
Disciplines taught by the doctor of sciences:
Pharmacoeconomics
Pharmacoeconomic basis of the formulary system
Fundamentals of health care organization and insurance medicine
Preparation of a pharmaceutical representative
The basics of medical standardization
Healthcare system in the context of integration processes