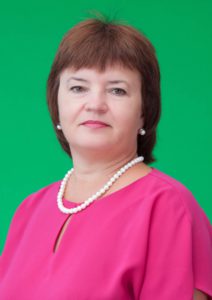 Ilyina Tetiana – Doctor of Pharmacy, Professor. Department of Pharmacognosy
Address: 61168 Valentinovska str. 4. Kharkiv, Ukraine.
Phone: (0572)-670-892.
e-mail: ilyinatany86@gmail.com
Biography
Born June 26, 1962 in Chapayevo v. Kegichivka rn., Kharkiv obl. Graduated Lenin School in Chapayevo with honors in 1979. Graduated Kharkiv Pharmaceutical Institute (Pharmacy Specialty) with honors in 1986 as a pharmacist and worked as an analysit pharmacist in Pharmacy 36, Kiev. In 1986 applied for a post-graduate degree at Department of Pharmacognosy in Kharkiv Pharmaceutical Institute, subsequently graduating in 1989. Defended her PhD on «Synthesis and Biological Activities of Derivatives of Anthraquinonsuccinaminic Acids and Standardization of Raw Materials and Preparations of Rubia tinctorum» in 1990 with specialty 15.00.02 – Pharmaceutical Chemistry and Pharmacognosy. Defended the doctorate in pharmacy with specialty 15.00.02 – Pharmaceutical Chemistry and Pharmacognosy with topic « Pharmacognostic Study of Family Rubiaceae species and Prospects of their Applications in Medicine» in 2015.
Has been working at National University of Pharnacy, Department of Pharmacognosy since 1989, including (1989-1995 – assistant, 1995-2016 – assistant professor, 03/01/2016 and on – professor).
Awarded with Gold Mark and Gold Diploma for the 1st place in Ukrainian National Analytics Championship (2012); Awarded with Silver Mark and Silver Diploma for the 2nd place in "Pharmaceutical Sciences" nomination at XVI International Scientific and Practical Conference "Problems and ways of modern public health development» (London – Kyiv, 2011); Awarded with Bronze Mark and Diploma for the 3rd place in "«World Championship , continental , national and regional research analytics championships of the International Academy of Science and Higher Education» (London, 2012), Diploma 2nd degree in the nomination of «The Best Professor of NuPH» (2016).
Membership in professional associations
CONEM (Council for Nutritional and Environmental Medicine)
School of Science:
The main areas of scientific research are: synthesis and study of biological activity of Anthraquinonsuccinaminic acids and their derivatives, morphology-taxonomic, chemo-taxonomic and phytochemical study of species of families Rubiaceae, Rosaceae, Fabaceae, Plantaginaceae, Asteraceae of Ukrainian and adjacent coutries' flora; standardization of raw material and preparations of Rubia tinctorum.
Has prepared one PhD of Pharmaceutical Science and is leading the preparation to defend the PhD dissertation.
Author and Co-Author of more than 340 scientific and methodological works, including 3 authroship certificates, 26 patents, 111 articles, 130 thesises, 1 scientific and methodical recommendations, 5 informational letters, 1 textbook, 4 tutorials, 9 methodical recommendations, 6 template programs and 34 articles in Pharmaceutical Encyclopedia.
Teaching:  Pharmacognosy, "Medical plants resources science". Leading preparation of diploma master degree works.