11th Central European Symposium on Pharmaceutical Technology (CESPT 2016) is going to be held from September 22th-24th 2016 in Belgrade, Serbia, organized by the Faculty of Pharmacy, University of Belgrade and supported by European Federation for Pharmaceutical Sciences (EUFEPS) and many regional pharmaceutical association and societies. Key aim of the CESPT Symposium Series is to bring together eminent researchers from academic institutions, industry and regulatory bodies coming from the whole Europe and to foster intellectual exchange among the members of the international pharmaceutical community. In this tradition, the CESPT 2016 will provide participants an outstanding and exclusive forum for sharing their perceptions of academic, industrial and regulatory aspects of pharmaceutical technology, to communicate personally with members of the pharmaceutical community and to learn about cutting-edge research findings and experiences.
All information regarding CESPT 2016 is available: http://www.cespt2016.org/
Organizing Team of CESPT 2016
Dr Djordje Medarevic
E-mail: djordje.medarevic@pharmacy.bg.ac.rs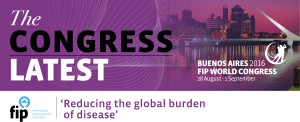 28 August – 1 September 2016 The annual Congress of the International Pharmaceutical Federation (FIP) will be held in Buenos Aires, Argentina.
"Reducing the global burden of disease" is the theme of the 76th World Congress of Pharmacy and Pharmaceutical Sciences.
Pharmacy today is not just about treatment but about disease prevention and health promotion. You can choose from over 250 hours of congress sessions.
Registration is open!
Our mailing address is:
International Pharmaceutical Federation FIP
Andries Bickerweg 5
Den Haag, 2517JP
Netherlands
http://www.fip.org/buenosaires2016/
14-17 November 2016 – 15th General Conference of the International Association of Universities «Higher Education: a catalyst for innovative and sustainable societies» will be held in Bangkok, Thailand
Conference will be hosted by a Consortium of Thai Universities led by Siam University.
Researchers, academics, higher education leaders and practitioners from IAU Member institutions or organizations are invited to share their experiences. The authors of selected case studies will be invited to make a presentation during the Conference and will be granted a fee waiver for the Conference.
Deadline: 31 March 2016.
Programme Committee is inviting keynote and concurrent session speakers  to address various dimensions of this topic. IAU is also working with its range of partners, including among others UNESCO, Sustainable Development Solutions Network (SDSN), Magna Charta Observatory (MCO), and Association of Catalan Public Universities (ACUP), to offer sessions examining how higher education serves society in the context of the 2030 Agenda for Sustainable Development adopted by the UN in 2015.
Registration will open on April 4, 2016
Contact: Trine Jensen
http://www.etouches.com/iau2016

On 21-25 April 2016 the International Conference of Pharmacy Students "Be in Progress 2" will be held at the Medical University of Lublin initiated by the Lublin Association of  Pharmacy Students (Poland)