In 1922 and 1943 pp. he served as acting Rector of Kharkov Pharmaceutical Institute.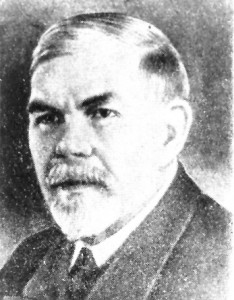 Nikolay PetrovichKrasovskiy was born in 1874. After graduation from the pharmaceutical Department of the Medical Faculty of Kharkov University in 1899, he worked as a laboratory assistant, private lecturer, university professor at the veterinary institute. He went on research assignments to Germany and Switzerland. Since foundation of the Pharmaceutical Institute he headed the department of Analytical Chemistry and supervised the scientific and educational work. The total teaching experience of N.P. Krasovskiy in higher educational establishments is more than 45 years.
The scientist worked on finding sustainable methods of quantitative determination of low concentrations of chemicals of different classes, studied the problem of the medicinal plants – buckthorn, common periwinkle and herbal products – cocoa beans, mustard seeds and oil.
Nikolay PetrovichKrasovskiy – Master of Pharmacy, Doctor of Pharmacy, the first dean and head of the Department of Analytical Chemistry of the Kharkov Pharmaceutical Institute (1921-1944 pp.) – is the author of 50 scientific papers, 4 books in analytical chemistry for pharmaceutical universities: "Quantitative chemical analysis. Practical Course "(1934 p.); "Qualitative chemical analysis. Practical Course" (1934); "Analytical Chemistry. Quantitative Analysis" (1940); "Analytical Chemistry" (1949).
M.P. Krasowski was awarded order of the "Red Banner of Labor".