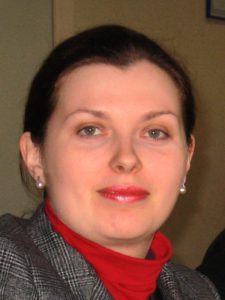 Levachkova Yuliya Valentynivna, doctor of pharmacy, assistant professor
Valentinovskaya str. 4, tel. (0572) 67-91-84
Was born on May, 30, 1983 year, in settlement Chutovo, Poltava region.
In 2005 graduated from the National pharmaceutical university with honors on specialty «Pharmacy» with qualification  of pharmacist in 2005.
In 2006 finished the National pharmaceutical university with honors on speciality «General pharmacy» with qualification master's degree of pharmacy in 2006.
From 2005 worked at the department of chemist's drug technology:  2005-2008 – a senior laboratory assistant; 2006-2008 – a graduate student.
On 6 June, 2008 defended candidate dissertation on the topic «Development of composition and technology of vaginal suppositories with propolis and Sea-buckthorn oil»   by specialty 15.00.01 «technology of medicines and organization of pharmaceutical business» (scientific advisor – prof. Tikhonov O.I.).
From 2008  has been working at the department of drug technology: 2008-2010 – as an assistant; from 2010 – as an associate professor.
In 2009 I entered doctorate of drug technology department, that had finished in 2012.
On 1 March, 2013 I defended doctoral dissertation on the topic «Theoretical basement and development of technology of combined vaginal suppositories for treatment of infectious and inflammatory gynaecological diseases»   by specialty 15.00.01 «technology of medicines, organization of pharmaceutical business and judicial pharmacy» (scientific consultant – prof. Yarnykh T.G.)
Gives lectures on chemist's technology of drugs and conducts the laboratory classes and seminars with native and English-speaking foreign students of specialty «Pharmacy» on drug technology and biopharmacy. The coauthor of textbook «Biopharmacy» (2010); 2 practical works, 6 tutorials: «Suppositories» (2009), «Teaching methodology of chemist's technology of drugs» (2011), «Workbook for Biopharmacy: a handbook for the 5-th English students of pharmaceutical higher schools and departments» (2010).
At the moment is the coauthor of development and introduction in production activity of pharmacies the device for pouring  double-layer suppositories; project of the general article in State Pharmacopeia of Ukraine (SPU) «Preparation of suppositores and pessaries «ех tempore»»; 52 article, 40 theses,  4 patents of useful model, 4 patents of invention and 4 informative letters. I take active part in the advanced and methodical study of department, different conferences of regional, Ukrainian and international level.
With 2008 carries out duties responsible for scientifically-research work (SRW) at the department.
Pupils.
Under the supervision of as.prof. Levachkova Yu.V. is performing 1 candidate thesis ( app;icant Litvinova O.M.).
In 2013 Levackova Yu.V. is awarded a Diploma Of the National Pharmaceutical University.