On April 25 launched the XX International scientific and practical conference of young scientists and students "Current issues of creation of new medicines", organized by the Council of Young Scientists and Students' Scientific Society of the National University of Pharmacy. In the event, dedicated to the 90th anniversary of D.Sc. in Pharmacy, professor Dmitriy Pavlovich Salo, participated more than 300 young scientists, who represented,        in particular, Ukraine, Russian Federation, Republic of Kazakhstan.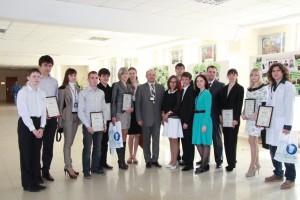 Taking into account the process of active integration of Ukraine into international scientific space and to enhance the prestige of the national science, Rector of the National University of Pharmacy, Corresponding member of Academy of Sciences of Ukraine, professor Valentin Petrovich Chernykh proposed to hold the anniversary conference in English.
Talking to the participants of the meeting at the plenary session with welcoming speech, co-chairman of the Organizing Committee, vice-rector on scientific work, D.Sc. in Chemistry, professor Sergey M. Kovalenko emphasized the importance of participation of young people in scientific progress and special importance of this event.
The event program envisages sessions in 16 scientific directions.
Scientific Directions of the Conference 
 Synthesis of physiologically active substances
 The study of medicinal plants and herbal remedies
 Standardization of drugs. Pharmaceutical and chemical-toxicological analysis
Pharmaceutical Technology
Modern Biotechnology
Physiological and biochemical basis of action of biologically active compounds
Pre-clinical pharmacological study of new drugs
Modern aspects of Pharmaceutical Microbiology and Immunology
Clinical Pharmacy
Pharmacoeconomic studies of drugs
Management and marketing in pharmacy
Socio-economic research in pharmacy
Quality management in the pharmaceutical and medical industry of Ukraine
 Social science
Philology
Pedagogy and рsychology