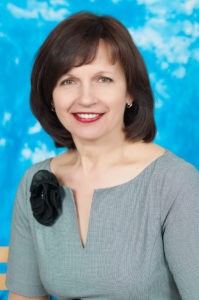 POLOVKO NATALIA PETRIVNA – doctor of pharmacy, professor, head of the department of drug technology
Adress: 61168, Kharkiv, Valentynivska street,4
Тел.: (0572) 65-72-00
Факс: (0572) 65-72-00
E-mail: atl@nuph.edu.ua
She works at the National University of Pharmacy (NUF) since 1983 laboratory assistant, senior assistant, assistant professor, senior lecturer of industrial technology of drugs from 1998 to 2012 – Assistant Professor of cosmetology and aromologi Department, since 2013 – professor of chemist's technology of drugs Department.
In 1990 she graduated from the Kharkov Pharmaceutical Institute specialty "Pharmacy" and obtained the qualification of "pharmacist". In 1999 she defended her thesis on "Development of composition and of leaves walnut's tincture". A thesis for the degree of Doctor of Pharmaceutical Sciences on the theme: "The scientific and experimental validation of composition and technology anhydrous gel with antifungal imidazole derivatives" defended in 2011.
Awards :diploma of the NUPh, winner in the nomination "Young scientist of the year-2011", diploma of the regional council (2018), diploma of the NUPU (2016, 2018).
Scientific School: The main direction of scientific activity Polovko NP is the development of compositions and technology of pharmaceuticals and cosmetics.
Students:
Peresadko Irina PhD, "Development of compositions and technology of tablets on the basis of walnut's crushed leaves and chestnut" (2006);
Strus Oksana "Development of compositions and technology of medical- cosmetic product based on microbiological carotene " (2010);
Bashura Andrei "Development of compositions and technology of gel with the tincture of horse chestnut's leaves" (2013).
Kolesnikova Vladislava "Development of composition and technology of cream for the treatment of demodicosis" (2016).
Under the direction of Polovko N.P. candidate's theses are performed by Konovalenko I.С. (2020) and Zuykina Ye.V. (2021), doctoral dissertations Fedorovskaya MI (2018) and Strus O.E. (2020).           
Public activity: member of the approbatory council of the NUPh on the specialty 15.00.01; member of the profile methodical commission on technological disciplines NFaU, member of the DMP NFaU.           
Publishing:Polovko N.P. is the author of more than 300 scientific works (including 18 patents, 3 informational letters, 3 copyright certificates) and more than 50 methodical publications.
She teaches courses:
chemist's technology of drugs,
вiopharmacy