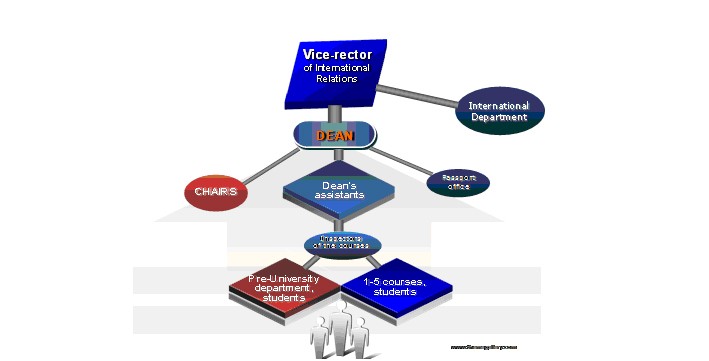 The work of the foreign students department is organizationally structured and is guaranteed by performance of proper functional duties of the dean of the department, the dean's assistants and the inspectors of the relevant courses.
The dean is the structural part of the department, who performs organization and control actions securing education process.
The Dean of the department guarantees and controls observing and following the Rules of Internal Regulations of NUPh. by foreign students.
The structure of the department comprises passport and visa registration office, which guarantees abidance by acting regulatory legal acts as to foreign students staying in the territory of Ukraine.
This office provides passport and visa control of  foreign students when entering NUPh and students while studying at the university, when making registration by the place of living and status for students for staying out of Ukrainian borders.
The structure of the department also includes chairs of Russian language, biological chemistry, pharmaceutical technology of drugs and pharmacology, with which we cooperate closely in order to provide foreign students with necessary knowledge and skills.