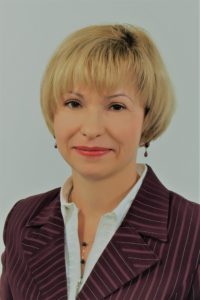 DOBROVA Victoriia Ye.
Address:  61057 Khsrkiv, Pushkinska St., 27
Тel.  (057) 706-30-72
 E-mail: vd311270@gmail.com
Autobiography
Victoriia Ye. Dobrova was born in 1970 in Kharkiv. She graduated Kharkiv aviation institute (1994) and postgraduate course of the National Aerospace University (NAU) "KHAI" (1997). Dobrova Victoriia worked as an engineer at NAU "KHAI" (2000-2001). She worked at National Univesrity of Pharmacy (NUPh) since 2001: senior teacher (2001-2003), Associate Professor of the Department of Physics (2003-2004). During 2004-2013 she has been working as the Academic Secretary of the Research Department and an Associate Professor of the Department of Physics of the NUPh (part-time). During 2006-2013 she has been performing the responsibilities of Deputy Secretary of the Selection Committee concerning the NUPh Master Program. Since 2013 Dobrova Victoriia is the Professor of the Department of Clinical Pharmacology and Clinical Pharmacy of the NUPh.
In 2001 Dobrova Victoriia completed PhD thesis and earned PhD degree in technology, in 2005 – Associate Professor academic status. In 2013 she completed the doctoral thesis "Scientific rationale for the methodology of planning and assessment of pre-clinical and clinical trials of medicine", since 2013 – Professor. During 2014-2106 she has been taking training course in Union Graduate College (the USA) within Advanced Certificate Program in Central and Eastern Europe «Bioethics in Biomedical Research». During this training, she has performed a scientific project "Identifying And Addressing Challenges Of Effective Functioning In The Ukrainian Research Ethics System" funded by National Institute of Health and Fogarty International Center Grant.
Dobrova Victoriia is an author and co-author of more than 180 scientific and methodical works, particularly: 85 – papers, 8 – patents, 4 – informational letters, 8 – scientific and methodical guidelines, 8 – scientific textbooks, 1 – dictionary, 5 – guidelines for class work.
Public work. Dobrova Victoriia is a member of the approbation Council 15.00.01- Technology of Drugs, Organization of Pharmaceutical Business and Forensic Pharmacy, member of Editorial Council of the scientific journal "Management, economy and quality assurance in pharmacy"; Deputy Secretary of the Ethical Committee of the Clinical and Diagnostics Center of the NUPh.
Scientific researches: methodology of planning and assessment of clinical studies by applying of mathematical models which consider the specificities of these studies; scientific approaches and methodical aspects of clinical trials management processes, particularly, implementation of quality management system based on ISO 9001 standard, development of theoretical and practical approaches of clinical trial risk management, methodical aspects of clinical trial data management, implementation of modern pharmacoeconomical approaches to clinical trials evaluation and substantiation of its planning and conduction.
Membership in professional organisations. Member of International Society For Pharmacoeconomics and Outcomes Research (ISPOR)
Dobrova Victoriia gives lectures, practical and seminar classes at following disciplines:
Fundamentals of Bioethics;
Bioethics
Clinical Pharmacology and Clinical Pharmacy
Good Clinical Practice and Validation of Clinical Trials of Medicines
Methodology and Logics of Research