Cafes of the nutrition complex of the university are community-focused establishments. The cost of dishes includes only the cost of used products. The university undertakes other expenses for maintenance of a nutrition complex.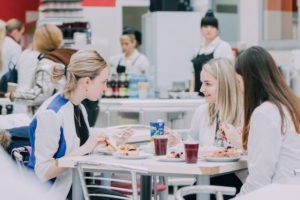 Nutritional complex of NUPh includes:
4diners in each campus building;
сanteens in dormitories no. 3 and 4.
The total number of seats is 700.
There is a new equipment, modern interiors, a wide range of dishes in the cafes. Daily menu includes:
6 salads;
2-3 first courses;
10 other dishes;
diet dishes;
drinks, desserts, pastries.