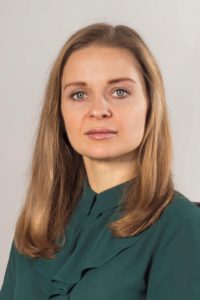 Vice-Rector for scientific and pedagogical work
Vladymyrova Inna Nikolaevna, Doctor of Pharmaceutical Sciences, professor
Tel.: (057) 706-30-71
Е-mail: i.vladimirova@nuph.edu.ua
---
Head of Postgraduate Studies Department – Holybtsova Karyna Kostiantynivna
Tel./Fax: (057) 706-30-71
е-mail: aspirantura@nuph.edu.ua
NATIONAL UNIVERSITY OF PHARMACY invites foreign citizens to postgraduate studies to obtain a scientific degree "Doctor of Philosophy" (Ph. D.)
Specialties of Postgraduate Studies Department: 226 Pharmacy, 222 Medicine, 091 Biology;
Previous education – complete higher education, Master's (Specialist) Degree; Duration of training – up to 4 years;
Financing – at the expense of legal entities and individual persons;
Mode of training – full-time, part-time;
Tuition fee (per one year) in the academic year 2019/2020:
Full-time – 5500 USD,
Part-time – 5000 USD;
Submission of documents – all year round;
Enrollment based on result of the interview – all year round.
Applicants must submit the following documents:
1) application in the NUPh Rector's name;
2) photocopy of passport document;
3) photocopy of Master's (Specialist) Degree Diploma with Diploma Supplement;
4) personnel data form;
5) 4 personal photos of the applicant 3х4 cm;
6) list of the published scientific works and inventions or essay on the selected scientific specialty.
7) review of the Department with a signature of Head of the Department and of the scientific supervisor;
8) application of consent for personal data collection and processing.
Passport document and diploma (the originals) are submitted by an applicant personally.
Scientific research at the NUPh are conducted in the following directions:
-synthesis of new biologically active substances, search for original substances of synthetic and natural origin;
-development and improvement of drugs analysis;
-development of compositions and technologies of new medical, cosmetics, homeopathic and veterinary medicines;
-pharmacological research of new biologically active substances and medicines;
– organizational-economic and marketing research in pharmacy;
– quality management in creation, production and trade of medicines.
Three Scientific Councils on defense of dissertation for scientific degrees of Philosophy Doctor and Doctor of Sciences in the following scientific specialties:
14.03.05 — Pharmacology (pharmaceutical, medical sciences);
15.00.01 — Technology of Drugs, Organization of Pharmaceutical Business and Forensic Pharmacy (pharmaceutical sciences);
15.00.02 — Pharmaceutical Chemistry and Pharmacognosy (pharmaceutical sciences);
15.00.03— Standardization and Organization of Production of Drugs (pharmaceutical sciences).
We will create for You conditions for purposeful and productive work.