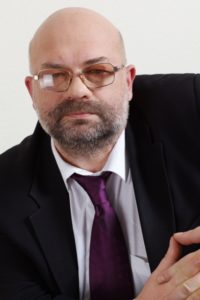 Gladukh Ievgenii V., Doctor of Pharmacy, professor Technologies of Pharmaceutical preparations
Address: 61168, Kharkov, 4, Valentynivska str.
Phone: (0572) 67-91-51
e-mail: tfp@nuph.edu.ua
Biography
Born on May, 9th 1963 in Lyubotyn of Kharkov region. In 1985 graduated from Kharkov pharmaceutical institute, where continued his professional career. Until defense of his candidate's thesis worked as senior lab-technician, assistant lecturer (1987) at industrial drugs' technology department. In 1992 he defended his thesis on the topic "Development of the composition and technology of a foam preparation in an aerosol package with an antimicrobial and hemostatic effect".
Since 1997, he worked as an associate professor at industrial drugs' technology department. In 2004 he defended his doctoral thesis on the topic "Theoretical and experimental substantiation of the composition and technology of tablets and ointments with polyphenolic compounds of alder genus plants". In 2004 he was awarded the title of professor.
Since 2010, heads the department of industrial pharmacy.
The author of the original drugs – tablets and ointment of altan, tincture of walnut leaves, «Inflarax» ointment, «Zhivitan» gel, «Molosol» cream, «Milk thistle oil», «Thistle Fruit Cellulose». Developer of generic drugs, phytoteas, medicinal blends and suppositories, that are being industrially produced. Developer of more than 10 specifications for biologically active supplements and cosmetics.
For significant personal contribution to the development of pharmaceutical science, fruitful work, high professionalism has been awarded diplomas of the Ministry of Health of Ukraine (2008), Pharmaceutical Association of Ukraine (2001), Association of employers' organizations of the medical and microbiological industry of Ukraine (2010), Academy of Higher Education Sciences (2018) and National University of Pharmacy (2006, 2009, 2012, 2013, 2015, 2016, 2017), honored professor of NUPh (2016), Academician of the Academy of Sciences of Higher Education of Ukraine (2017).
Social activities
member of the specialized Academic Council D.64.605.02
member of the specialized Academic Council D.17.600.03
member of the editorial board of the journal «News of Pharmacy»
member of the editorial board of the journal «Ukrainian biopharmaceutical journal»
member of the editorial board of the journal «Kazakhstan Pharmacy»
member of the editorial board of the journal «News of South-Kazakhstan Medical AAcademy»
Head of industrial pharmacy department of Public organization «Ukrainian Pharmaceutical Chamber»
Member of the Problem Commission «Pharmacy» of the Ministry of Health of Ukraine
Membership in professional associations: Associate Member of the International Pharmaceutical Federation (FIP) since 2018
Teaching the disciplines:
Qualification and Validation in Pharmaceutical Production
Theoretical Bases of Pharmaceutical Technology
Good pharmaceutical practices