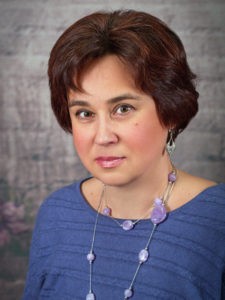 Olga Litvinova, a doctor of medical sciences, professor of the department of clinical laboratory diagnostics
Department of clinical laboratory diagnostics, Kharkov, Kulikov Street, 12
phone: 706-47-87
e- mail : klinlab@nuph.edu.ua
Autobiography. Litvinova Olga was born in 1963 in Kharkov in a family of employees. In 1980 I left school №3 in Kharkov with golden medal. In 1986 I graduated from Kharkov Medical Institute on the speciality «Medical business», my qualification is a doctor. I have a honors diploma. In 1986-1988y. I studied in clinical ordinature in the Ukrainian Institute of Improvement of Doctors on the speciality «Internal illnesses». From 1988 to 1991 I worked as a doctor-therapist in a 20 city hospital. In 1991-1992 I worked as a doctor of acupuncture of the preventive clinic of Kharkov State University. From September, 1992 I was an assistant of the department of pharmacotherapy with the pharmakokinetics of Kharkov Pharmaceutical Institute. In October, 20, 1992 I got a grade on the speciality «Pharmacology». From September, 1996 till August, 2004 I was an associated professor of the department of pharmacotherapy with the pharmakokinetics of Ukrainian Pharmaceutical Academy. In April, 20, 1999 I got a degree of a doctor on speciality «Pharmacology» in Special Council of Moscow Medical Stomatological Institute named of N.A. Semashko. I have a rank of associated professor from 1998. In June, 2009 I had a re-attestation of the scientific degree of the doctor of medical sciences in the Institute of Pharmacology and Toxicology. From September, 2010 till the present time I am  professor of the department of clinical laboratory diagnostics of NfaU. My medical record of work is 31 years, I have a higher qualifying cathegory on the speciality «Therapy». My length of teaching experience in the University is 26 years.
Scientific School.  She′s prepared one candidate of medical sciences .
Disciplines that teaches Litvinova O.: Clinical laboratory diagnostics,  Laboratory and functional diagnostics, Laboratory diagnostics, Evidence-based medicine. Algorithms and laboratory standards, Оtolaryngology.
Social activity: Chairman of the Commission on the implementation of decisions taken by the Academic Council.