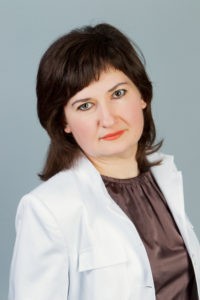 Bobritskaya Larisa  Aleksandrovna – Doctor of Pharmacy (2015), Professor of the Department of Industrial Technology of Drugs (since 2017)
Address: 4 Valentynivska Str.
Tel.: 67-88-52
Е-mail: ztl@nuph.edu.ua
Autobiography
In 1997 has graduated from the Ukrainian Academy of Pharmacy with honors in the specialty "Industrial Pharmacy", qualification – process engineer. After finishing graduate school in 2001 is defended Ph.D thesis on "Development of technology and composition of capsules diclofenac sodium with extended release". The developed medication in capsules "Diclofenac retard" have received a registration certificate of Ministry of Health of Ukraine and recommended for medical application in Ukraine and industrial production in LLC "FC" Zdorovye ".
Since 2000 is assistant of department of industrial technology of drugs of the National University of Pharmacy. Worked as a leading specialist of the scientific department of NUPh (2003-2008).  From 2003 to the present time is associate professor of industrial technology of drugs department of the National University of Pharmacy. Performed duties of head of the department of the ITD (2004-2012). She is head of the scientific work branch of the department.
In 2014 defended doctoral thesis on "Scientific – practical substantiation of technology of solid dosage forms with antimicrobial and antiviral action." According to the results of the thesis was introduced in the industrial production of JSC "Phytofarm" medicinal product in the form of tablets with valaciclovir "Herpeval 500" with antiviral action and medicinal product also in the form of tablets with ornidazole "Meradazol" with antimicrobial and antiprotozoal action.
L. A. Bobritskaya – author and co-author of over 100 scientific and methodical works, including 23 educational and methodical editions, 50 articles in professional scientific journals, 7 patents and 2 information letter.
Awarded with Certificate of Merit of NUPh for fruitful scientific and practical activity, the development and introduction of medical products from idea to pharmacy shelf.
Social activity: at the Department of Industrial Technology of Drugs L. A. Bobritskaya is responsible for science work.
Areas of scientific research: Scientific and research activity L. A. Bobritskaya are aimed at the development of composition and technology of original medicines, including combined with different action directionality. Under the leadership of  L. A. Bobritskaya are performed 2 Ph.D theses. Co-author of the original drugs: tablets "Lavaflam" choleretic action; capsule "Diaplant" antimicrobial, anti-inflammatory and antispasmodic action, the capsule "Meraflam" for the treatment of infectious and inflammatory diseases (mixed infections) in humans.
Delivers lectures on subjects: "Industrial Technology of Drugs", "Modern Pharmaceutical Technologies", conducts laboratory studies and seminars on the industrial technology of drugs for domestic and foreign students of the full-time faculty "Pharmacy", for students of the distance learning at the faculty of pharmaceutical degree programs, is the advisor of master's diploma papers, takes part in the preparation of distance training learning course, teaches in English.