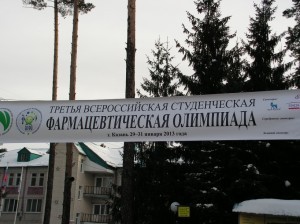 29-31 January 2013 in Kazan was took place the third All-Russian Student Pharmaceutical Olympics supported by pharmaceutical companies "R-Pharm", "Nycomed", "Petrovaks Farm", "Schott", "Stada CIS" and the State Council of the Republic of Tatarstan. In Olympics were involved 31 teams from various regions of Russia, Belarus, Tatarstan, Kazakhstan and Ukraine.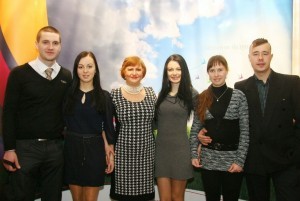 Ukraine national team was represented by the NUPh students of the Pharmacy Faculty:
Deyko Roman Danilovich 4th course VHE-2 (Vocational Higher Education)
Yeremina Anna Aleksandrovna 4th course VHE-2
Timofeev Maksim Pavlovich 5th course 5th group
and students of Ternopil State Medical University named after I.Horbachevsky, Pharmacy Faculty:
Ivanina Yuliya Romanovna
Chekhovich Mariana Vasilievna 
Ukraine team took the 4th place and entered the top ten strongest teams among 30 teams WELL DONE!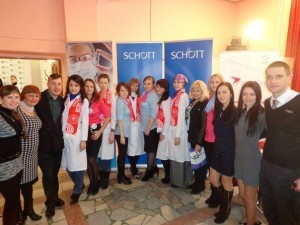 Rector of the St. Petersburg Academy Igor Narkevych noted that Olympics is very important for the pharmaceutical industry, as it allows to estimate the achievements and shortcomings that exist in modern pharmaceutical engineering education, and consolidate educational community for the purposes of training of our young people at the modern pharmaceutical companies. 
 Test for the readiness to be a winner
Students' participation in team championships – Olympics – is one of the important stages of professional knowledge and skills, development of creative thinking of future professionals. Competition in knowledge is held in the major academic disciplines of pharmacy and it allows students to learn to work collectively, to make right decisions and find answers to the currently important tasks of the science in general and industry in particular. The most famous of these events in the CIS countries is "All- Russian Student Pharmaceutical Olympics" (ARSPhO), which since 2009 is held biyearly.
The IIIrd "All- Russian Student Pharmaceutical Olympics" took place on January 29 – 31, 2013 in Kazan (Tatarstan). 150 students from 30 higher education institutions of Russia, Ukraine, Belarus and Kazakhstan competed for prizes in competitive tasks in all pharmacy disciplines: Pharmaceutical Technology, Biotechnology, Pharmaceutical Chemistry, Pharmacognosy, and Management and Economics of Pharmacy. This year Ukraine at ARSPhO was represented by students of Ternopil State Medical University named after I.Horbachevsky and National University of Pharmacy. About competition in Kazan to the newspaper "Youth of pharmacy" told the member of Ukraine team 4th course student of Vocational Higher Education, 2nd group, "Pharmacy" specialty Roman Deyko.
– Roman, first of all, let me congratulate you on a good performance at the Olympics, on honorable fourth place. Personally for you is it the first time you participate in such event?
– Thank you for greetings. In the "All- Russian Student Pharmaceutical Olympics" I participated for the first time, but earlier, last year, I represented the NUPh in the second round of the All-Ukrainian Olympics, which was held in ZaporozhyeStateUniversity. Ukrainian national team at the ARSPhO consisted of two students from Ternopil and three from our university: 5th course student of the 5th group of "Pharmacy" specialty Maksim Timofeev, 4th course students of VHE-2 of "Pharmacy" specialty Anna Eremina and I.
– Is Ukraine team satisfied with the 4th place?
– It is hard to give a definite answer to this question. On one hand, taking into account the high level of the event itself and the participants of Olympics, 4th place is a very good result. But we were lacking only 2 points get the third, prize, place and it's a great pity. And, of course, we intended to win prizes, dreamed of it, so I can't to say that we are completely satisfied.
– Which of the tasks of this year's Olympics you consider to be the most interesting?
– As for me, this so-called creative task is. The thing is that it was rather practically oriented: it was about determination of the economic strategy and marketing activities on market implementation project of the new, really existing generic drug. It was the task, where it was necessary not only to be able to count, but also to think creatively. But other tasks were not less interesting then in example above. All of them demanded creative, non-academic, interdisciplinary approach.
– What was the most difficult during the competition?
– Speaking frankly, teamwork recompensed the weaknesses of each of us, so to carry out tasks together was not just easy, but also jolly: the smile was caused by specific tasks on the history of pharmacy. But we fully used the knowledge gained in the first year and didn't feel any as such difficulties or perplexity.
– Participation in such competitions is prestigious. In what way competitions and, in particular, this IIIrd "All- Russian Student Pharmaceutical Olympics" is interesting for you?
– Participation in competitions primarily teaches the teamwork, and attempt to find in you something that was unnoticed before. It is, so to speak, a specific test for readiness to become a professional in the industry, its decent player; test for readiness for teamwork, willingness to be a winner in life.
– This is also a great opportunity to test your knowledge and level of training at the higher education institution…
– Of course, yes. I think, our 4th place certainly indicates a high level of training at the National University of Pharmacy. After talking with students from other countries, we were convinced that the training of pharmacists in Ukraine, particularly at the NUPh is at the proper level, and our education is in no way inferior to the one you get in Russia, Belarus or Kazakhstan.
– Winners of ARSPhO -2009 got the opportunity to undertake the manufacturing practice at the leading pharmaceutical companies in Russia with subsequent employment. The 4th place is a very good result. Have Ukraine team members already received interesting proposals?
– This year's Grand Prize of the Olympics for the winning team is two months internship at the Institute of Fundamental Medicine and Biology of Kazan Federal University. For us, the reward was a wave of positive energy and copy of the latest edition of the State Pharmacopoeia of the United States. As for internship, I can say that we managed to talk quite effectively with the representative of "R-Pharm" Dmitriy Kulish, who told us about the prospects for cooperation with the transnational corporation, its corporate culture and traditions, requirements for employees. Proposals for cooperation with the leaders of the pharmaceutical industry can not be jjust plain, so that intense interest in them will not pass, but lead to the desired result.
– I wish you new victories and new achievements, Roman!
– Thank you! On behalf of the Ukraine team I would like to thank everyone who had a direct relation to our participation in ARSPhO. We sincerely thank the Dean of Pharmacy Faculty, Professor Lilia Ivanovna Vishnevskaya for the wonderful proposition to participate in this event. Many thanks to Victoria Anatolievna Rybak she's the one who coordinated our efforts on preparation into the right direction, establish connections with the organizers. Many thanks to the Dean of Pharmacy Faculty Lyudmila Vladimirovna Sokolova, who all this time was near us and personally took care of our worthy performance.
The interview was held by Larisa Karabitsyna, newspaper "Youth of Pharmacy"