The exhibition presents scientific papers of the scientist, photographs, memories of students and other materials.
The exhibition will run until April 30, 2014.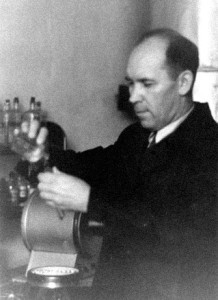 Petiunin Pavlo Oleksiiovych (22.02.1914, Yershovo village, Saratov region – 13.06.2003, Kharkiv) – professor, head of the Organic Chemistry Department of KhPhI.
Petiunin P. O. graduated from the Faculty of Pharmacy of Perm Medical Institute (1936), Faculty of Engineering of Moscow Military Academy of Chemical Defense (1943). He was associate professor, Head of the Department of Organic Chemistry (1940-1962), deputy director for Academic Affairs and Research (1940-1941), Dean (1950-1962) at Perm Pharmaceutical Institute, Head of the Department of Organic (1962-1985), Vice-Rector for Academic Affairs and Research (1971-1975) of KhPhI, received the title of professor in 1951. Petiunin P. O. is the author of over 380 printing works, 49 author's certificates, developer of the original drugs (Ortonal, Nikofezon, Antroksamat, Phenokridine, Glysulfazid, Oxaglucaminum). He created scientific schools in Perm and Kharkiv Pharmaceutical Institute, which has 10 Doctors and 31 Candidates of Sciences; 5 Candidates of Sciences are working in Egypt, Bangladesh, Sudan, Lebanon and Madagascar.