At the grand meeting, dedicated to the Day of Medical Worker, over a hundred best representatives of healthcare industry were decorated with medals and diplomas "For healthcare of the nation" and presentation publications "Leaders of modern medicine." All of them were nominated by the National Academy of Medical Sciences of Ukraine, regional healthcare departments, Academy of Sciences of higher education of Ukraine, and public associations.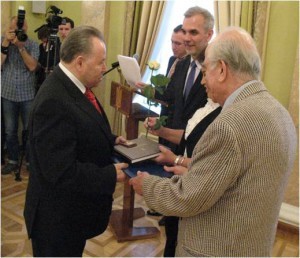 Professor of the Department of Technology of perfume and cosmetics of the NUPh Tikhonov Oleksandr Ivanovych was awarded the Honorary Diploma and the medal "For healthcare of the nation."
The winners of the project are: Healthcare Department, medical, academic institutions and leading scientists of the industry, military medical institutions, medical and preventive treatment institutions, educational medical institutions.
Organizers of the project are: Verkhovna Rada of Ukraine Committee on Public Healthcare, National Academy of Medical Sciences of Ukraine and the Ukrainian Information and Publishing Center "Galaxy"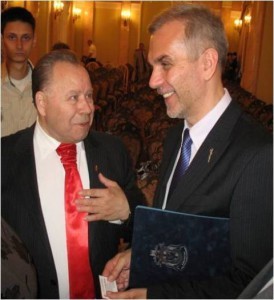 Oleg Musiy welcomed healthcare professionals on behalf of the Government and the Ministry of Health, noting their sole mission in preserving the health of the nation. The Minister expressed his deep respect for doctors, who were risking their lives, followed their vocation during the Revolution of national pride and now are working on the front line in the east. According to him, the sacrifice of doctors has changed public attitude toward the medical professionals.
Oleg Musiy noted that the Ministry will do everything possible to increase the prestige of the profession, to give the appropriate social status to the doctors, to develop professional self-governance. He said that the changes in the industry management system are envisaged in the Concept of a new national healthcare system and urged the medical community to join the debates on the draft document.