Academic mobility is one of the priorities of the international activity at the National University of Pharmacy. Academic mobility allows students to continue their education or to gain research experience abroad through participation, in particular, in short-term educational programs.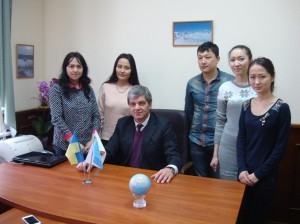 The purpose of the academic mobility programs is to improve the quality of education, understanding between different peoples and cultures, and bring up a new generation. Academic exchanges are implemented in accordance with the agreements between the NUPh and HEI-partners, contracts with international companies and other organizations.
Six 4th course students of the Faculty of Pharmacy came to study in the 8th semester, academic year 2013/2014, to implement programs of academic mobility on the basis of the Cooperation Agreement between the NUPh and KazakhNationalMedicalUniversity named after S.D. Asfendiyarov on academic, methodological and scientific cooperation.
And wanting to know how our guests feel in Ukraine, we asked them a few questions about their stay in our university and the country.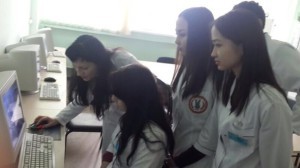 – What prompted you to participate in academic exchange program?
 Sholpan Abdilova:
– When I was invited to complete training in NUPh, I decided not to miss this opportunity and go for the spring semester to Kharkiv. Why? First of all, it's an interesting experience. For three years I was studying in Kazakhstan, where everything became familiar and trivial, so I wanted a little change, to study and live in another city, be in a new environment, the more so that your university has an excellent reputation as an educational institution.
Dana Ermagambetov:
– I also wanted to change something in my life, to understand what I want to do in future, to meet new interesting people. They say that a change of surrounding helps sort out these issues. Besides, I was curious to compare education, and to be honest, I was pleased with the learning conditions created for students in the NUPh.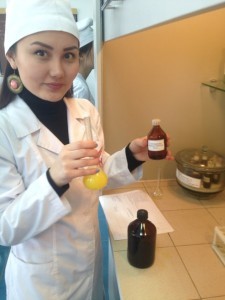 – In which countries / cities you also had an opportunity to participate in such programs? Do you quickly adapt to our city?
 – We had the opportunity to choose where to study: in Russia, Ukraine or Uzbekistan. We decided – Ukraine. Why Ukraine? I wanted to get acquainted with Ukrainians, their culture. We adapted quickly. We happened to get into a friendly group; everyone was friendly to us, welcoming, attentive. I do not regret my choice, I'm sure that my memories of training in the NUPh walls will remain the warmest and most pleasant during the time of my studentship. We are extremely grateful to the National University of Pharmacy and personally to the Rector V.P.Chernykh for the opportunity to study, even for a short period of time, but in one of the best universities, under the tutelage the most famous scientists of the pharmaceutical industry.
 Bogdana Malai,
student in "Pharmacy" specialty,
2nd course