The visit of delegation from Kurdistan was supported by the long-term partner of the NUPh on recruitment of foreign citizens to study in Ukraine: PE "Zainun"- in the person of its Director Issam Shahin and Executive Director Makher Bakir.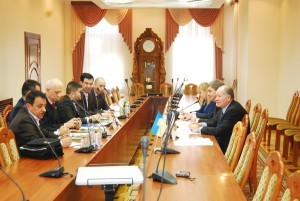 Delegation consisted of:
– General Director of the Information Centre of the Ministry of Education of Kurdistan, Dr. Jalal Abdulqadir Hamad;
– General Director of the BiologicalCenter of the Ministry of Health of Kurdistan, Dr. Sarhang Khoder Saber;
– Lecturer of the Faculty of International Economics of the University Al-Kitab, Associate Professor Rozgar Jaafar Aziz;
– General Director of the State Organization "Finances and Banks", Dr. Hiwa Abdul Qadir;
For the first time the delegation from Kurdistan visited our university two years ago. Currently, at the University of Al-Khitab, which was created only two years ago, students are studying at three faculties. The visit was held in particular to gain experience for the training of highly qualified personnel for the pharmaceutical industry of Kurdistan with immediate prospect of opening of the Faculty of Pharmacy in Kurdistan.
Among other issues, there were discussed issues of conclusion of inter-university agreements on scientific and educational cooperation, academic exchanges, training and retraining of pharmaceutical personnel.