The University honors its history. Memorial plaques dedicated to famous personalities of pharmacy and the most significant events of its history are installed in its buildings. Memorial plaques to M.O. Valyashko are installed at the administrative body of the University.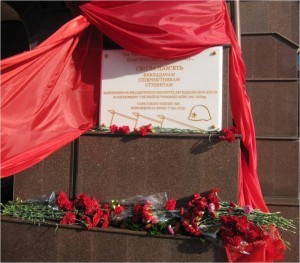 The first rector and founder of the National University of Pharmacy (at that time Kharkov Pharmaceutical Institute) Mykola Ovksentiyovych Valyashko (20, March(1, April) 1871 – 25, January 1955) since 1895 worked (since 1909 – professor) atKharkovUniversity, from 1919 – Professor of Kharkov Polytechnic Institute. In 1924 together with professors M. P.  Krasovsky and A. D. Rosenfeld, M.O. Valyashko participates in the publication of the State Pharmacopoeia. Since 1925 he was a member of the Academic Medical Board NKZ (People's Commissariat of Health) ofUkraine, since 1926 – till 1933 – member of pharmaceutical committee within Medical department of NKZ (People's Commissariat of Health) ofUkraine. In 1928, M.O. Valyashko together  with A.D. Rosenfeld organized publication of "Pharmaceutical Journal" within NKOZ of USSR and was its editor until 1930. At the same time he took the post of co-editor of "Big Medical Encyclopedia". In 1932 he was a  member of the presidium of the Committee of Chemicals Use at State Planning Committee, moreover, he was actively involved in Committee's activities as a secretary, comrade of the  chairman and head of the Kharkiv branch. In 1931 – 1933  and in 1936 – 1941 M.O. Valyashko participated in the research work of the Ukrainian Institute of Experimental Pharmacy. In 1938 – 1940 he was a member of pharmacopoeia committee of NKZ (People's Commissariat of Health) of theUSSR. Since 1934, Nicholas Ovksentiyovych – permanent head of the Kharkiv branch of the All-Union Chemical Society named after D.I. Mendeleyev. M.O. Valyashko created the scientific school, successfully headed the research department of pharmaceutical chemistry. For effective work the government has awarded Nikolai Ovksentiyovych with Orders of Lenin and Labor Red Flag, the medal "For Valiant Labor in the Great Patriotic War 1941 – 1945". The Government of Ukraine gave him the honorary title "Honored Worker of Science of the  USSR".
At the building of NUPh in  Melnikova Str. there was installed a memorial plaque in honor of the teachers, faculty, staff and students of NUPh who participated in the World War II.