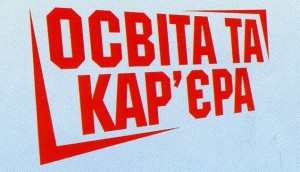 The Ministry of Education and Science, Youth and Sports of Ukraine, the Academy of Pedagogical Sciences and Society "Knowledge" of Ukraine on November15-17, 2012 at the Palace of Fine Arts "Ukrainian House" conducted International exhibition "Education and Career – 2012"  (str. Khreschatyk, 2), dedicated to the International Students' Day. In the framework of the International Exhibition "Education and Career – 2012" was conducted the International exhibition "Education Abroad"
The opening was attended by the Deputy Minister of Education and Science, Youth and Sports Boris Mikhaylovich Zhebrovsky, President of the National Academy of Pedagogical Sciences of Ukraine Vasily Grigoryevich Kremen, rectors of higher educational institutions, as well as Ambassadors Extraordinary and Plenipotentiary of Canada, France, Poland, Austria and etc.
In the exhibition participated:
78 higher educational establishments of Ukraine – the universities, academies and institutes;
10 training courses in different fields;
26 international organizations and educational agencies;
8 publishing houses;
15 vocational and technical training institutions;
49 foreign universities of the USA, the UK, Australia, Turkey, Poland, Lithuania, Cyprus, Switzerland, Greece, Canada, Germany, Russia, Hungary, Malta and Bulgaria. There are also represented: the German cultural center – Goethe Institute in Kiev, the IsraeliCulturalCenter of the Embassy of Israel in Ukraine, French Cultural Centre, the Polish-Ukrainian center of academic exchanges and others.
The National University of Pharmacy presented at this exhibition new scientific and educational publications, and the developments of original medicines made by the scientists of our university.
Career guidance work was conducted with school children and their parents in Kiev were distributed more than 200 information packages.
For participation in the exhibition NUPh was marked by the following awards.
1. Grand Prix in the category "Innovative development of education and training of the teaching staff"
2. Acknowledgements to the rector of Valentin Petrovich Chernykh "For the multiannual innovative educational activities on modernization of education in Ukraine"