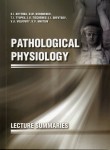 Крижна С. І., Кононенко Н. М., Тюпка Т. І., Тіщенко І. Ю., Шевцов І. І., Волковой В. А., Гнатюк В. В.
Pathological Physiology : Manual for students of higher school; Патологічна фізіологія
Х.: НФаУ: Золоті сторінки, 2012. – 200 с.
ISBN 978-966-615-413-5
ISBN 978-966-400-259-9
Формат 60х84/16
Оправа 2Ц
Рекомендовано Міністерством освіти і науки, молоді та спорту України
(лист № 1/11-12487 від 27.12.2011 р.)
This manual presents the main terms of Pathological Physiology, typical pathological processes, Pathological Physiology of organs and system.
These lectures are recommended for students of higher pharmaceutical schools and pharmaceutical faculties of higher medical schools.