Discussion was held by students of the National University of Pharmacy and the NationalPedagogicalUniversity named after G.S. Skovoroda. The guest speakers at the roundtable were students of the NUPhCollege. The meeting was devoted to studentship of Middle Ages and our time. On the  pharmaceutical university part were 2nd course students of Clinical Pharmacy Yemets A., Tsvck O., Bilyk O., Bondarenko A., Kocherga K., Alieva Ye., Maksimenko K. and 4th course student, member of the Students' Parliament of the NUPh Ignatenko M.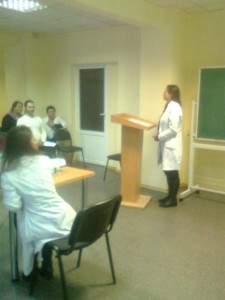 The first universities were not tied to the cities and professors could move from town to town, while depriving it of prestige, fame. In those days, students' memory was valued, that why books were for rich people, and all others had to either remember or rewrite it. As to privileges, such as student card or student travel ticket, they did not exist, but there were many others, for example, students' conflicts were solved at highest municipal level.
Students could move from town to town, getting knowledge, it confirms that even then there was common education space, about which dream representatives of Bologna process now.
 Much was said about the modern university education. There were discussed problems of Bologna process, entrepreneurial status of the universities, students' volunteerism. Maria Ignatenko presented those educational programs in which she participated.
Exchanging very interesting information we gained new knowledge, and also friendship with students of the PedagogicalUniversity. We are grateful to moderators in this event: assoc. prof. A.P. Lantukh and assoc. prof. A.A. Khirina for their work in preparing and organizing this roundtable. And we also wish everyone participate in such events, becuase it is very interesting and  cognitive. 2nd course students of Clinical Pharmacy Elena Bondarenko and Katerina Kocherga