The first representation of pharmacy as a scientific direction in the NAS of Ukraine, on the top level of academic science, was election of the NUPh Rector V.P. Chernykh a member of the National Academy of Sciences of Ukraine in 1997, after two attempts in 1990 and 1992. This was the first step.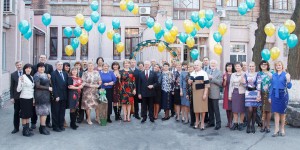 The next step – March 6, 2015 – is victory in the competition for the position of a full member (academician) of the NAS of Ukraine. And again, at the third attempt, after two previous ones – in 2003 and 2012.
History is made by personalities – the heroes of our time. Our Rector is a generator of ideas, enthusiast and pioneer in many initiatives, reformer. Valentyn Petrovych – chief pharmacist of the country, purposeful, devoted to one matter- University and pharmacy. National Pharmaceutical University is proud of outstanding scientist, enthusiast of pharmacy, organizer of science and education, luminary of organic chemistry and drug development chemistry. Only a strong personality with persistent character, enormous power of will and powerful energy is able to cover a long marathon distance in 25 years and ascend the scientific Olympus.
Pharmaceutical community of the National University of Pharmacy is proud of its Rector and wishes him good health, new achievements and new discoveries!
VIVAT TO THE FIRST ACADEMICIAN OF PHARMACY!