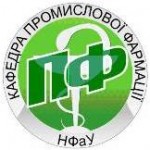 Department of Industrial Pharmacy of the National University of Pharmacy of the Ministry of Public Health of Ukraine invites you to take part in the III-rd scientific and practical internet – conference with international participation "Modern Achievements of Pharmaceutical Technology" which will be held on November 21-23, 2012.
The purpose of the conference: consolidation the pharmaceutical research elite of Ukraine, CIS countries, representatives of pharmaceutical companies and manufacturers of pharmaceutical equipment.
The conference will be conducted in three main directions:
1. Development, production, distribution and prospects of creation of new finished pharmaceutical products
2. Validation of themedicine technologicalmanufacturing process
3. Biopharmaceutical features of creation of new medicines in terms of their medical application.
The conference invites to participate: researchers of the pharmaceutical companies, pharmaceutical firms, and teachers of the pharmaceutical and medical universities, including those from Ukraine, Russia, Belarus, Georgia.
We invite drug manufacturers to conduct presentations of their companies and their products.