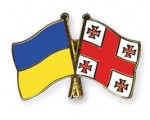 Within the framework of the program "professors visiting", the professor of Social and Clinical Pharmacy Department from theTbilisiStateMedicalUniversitynamed after Tamara Tseriteli (Georgia), Tamaz Bidzinivich Chumburidze visited the National University of Pharmacy from September, 10 till September, 14, 2012 with the aim of experience exchange in the field of clinical pharmacy.
Tamaz Bidzinivich graduated from the Tbilisi Medical institute, then graduated from the postgraduate course under the direction of professor М.D. Mashkovska (All-Union Scientific Research of Chemical and Pharmaceutical Institute), after that he worked in research institute of Perinatal medicine and gynecology, taught at the Department of Pharmacology of the Tbilisi State Medical University. Together with colleagues he founded the Pharmacological committee at the Ministry of Health inGeorgia, worked as the head of Pharmacopeias Committee at the same Ministry. He is the vice-president on international connections of Druggists Association of Georgia.
One of the drugs he invented was marked the gold medal at the international exhibition of "Eurointellect".
The visit of professor Chumburidze promises to initiate the fruitful and long-term mutually beneficial cooperation between the two Universities both in the area of academic exchanges and in area of general scientific researches and publications.