Director of Kharkov Pharmaceutical Institute
1939-1940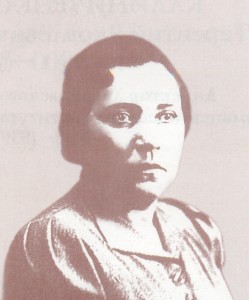 E.I. Aleksentseva was born in 1905 in Kharkov region. She graduated from the Kharkov Medical Institute, a doctor by profession. From 1939 to 1940 she worked as the director of the Kharkov Pharmaceutical Institute. As a second job she headed the department of physiology.
In the prewar period Pharmaceutical Institute under the direction of         E.I. Aleksentseva accumulated a considerable scientific potential. The leading representatives of the faculty were engaged not only in fundamental researches but also sought to share experiences with scientists from other academic institutions. The most important factor for intensive development of the scientific potential of the industry, pharmaceutical science and health protection is to collect and exchange information at the conferences, conventions and seminars. In 1939 Kharkov Pharmaceutical Institute became the founder of these forms of scientific activity in Ukraine.
During the directorship of E.I. Aleksentseva at the departments of the institute was conducted an active research activity. The Department of Microbiology, headed by Professor S.A.Blinkin, was realized further profiling of the subject for the specialty of pharmacist, conducted basic research to develop highly efficient disinfectants, antiseptics and antibiotics.
In 1940 at the institute were defended three dissertations for the degree of Candidate of Science.