Rector of Kharkov Pharmaceutical Institute, 1942-1944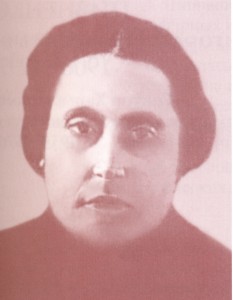 Mariya Borisovna Volynskaya was born on May 5, 1900 to a family of small entrepreneurs. She began to work in 1916 as a student pharmacist at the Shmukler's pharmacy in Uman. From 1917 to 1921 M.B.Volynskaya worked as an assistant consultant at Bukovsky's pharmacy in the town of Teplik, Podolia province; from 1921 to 1922 she was in charge of a pharmacy in the public hospital. The best years of her life are linked with Dnepropetrovsk. Here she worked her way up from supplier pharmacist in pharmacy of public hospital to the director of Dnepropetrovsk Pharmaceutical Institute, which she headed from 1931 to 1945. From 1942 to 1944, during the evacuation to the city of Semipalatinsk, she worked as a director of the united (Kharkov and Dnipropetrovsk) Pharmaceutical Institute.
From 1941 to 1944 the institute was evacuated first to Pyatigorsk, and since 1942 to Semipalatinsk. By the order of All-Union Committee of Higher Education Affairs and at the CNC of the USSR and People's committee of healthcare of the USSR № 483 from September 29, 1942 Kharkov Pharmaceutical Institute was merged with the Dnepropetrovsk Pharmaceutical Institute.
M.B.Volynskaya was appointed to the post of Director of the united Institute. In work with students, postgraduates very brightly surfaced her rich internal culture, excellent organizational skills and professionalism. Due to the selfless work of the director, scientific and pedagogical staff the united Institute started the academic year on time and was located at the base of one school in Semipalatinsk. Contingent of students was mainly formed from the evacuated students of Kharkov and Dnepropetrovsk. The training program was slightly intensified, the departments were temporarily integrated.
During the stay in Semipalatinsk, along with the educational process, the Institute under the rectorship of M.B.Volynskaya produced drugs that were in very short supply. Department of Microbiology continued research and development of new antibiotics, sterilizing solutions and disinfectants based on microbiological screening of compounds synthesized at the Institute. Even in the evacuation of the Institute continued scientific and methodical work. In 1942 professor S.F.Shubin publishes "Manual on technology of medicinal forms". In 1943 into the curriculum was included a new discipline – "Medical commodity."
During the evacuation defense of thesis and scientific researches were temporarily stopped. Business activity and energy, constant search and creativity allowed M.B.Volynskaya together with a team of likeminded people to do everything necessary to preserve the traditions of scientific and educational institution in incredibly difficult circumstances.