Georgіyants V.A., Bezugliy P.O., Bur'yan G.O., A. I. Abu Shark., Taran K.A.
Pharmaceutical chemistry. Lectures for English-speaking students: the study guide for students of higher schools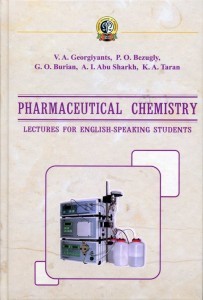 The study guide contain the main theoretical material in pharmaceutical chemistry. The general methods of pharmaceutical analysis (reactions for identification of ions, limit tests for impurities and methods of assay) are in accordance with the European Pharmacopoeia and the State Pharmacopoeia of Ukraine. The lecture course of pharmaceutical chemistry involves analysis for medicinal substances of the inorganic, aliphatic, aromatic, heterocyclic structure and natural origin.
For 3d-5lh year English-speaking pharmaceutical students.