During the week, starting from April 15, university and college students had an opportunity to attend thematic seminars, workshops and training sessions conducted by specialists of Kharkiv city center of employment and top managers of the leading recruitment companies.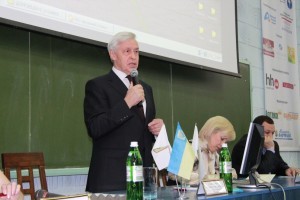 On April 19, 2013 conference on practical training "Professional and practical training of pharmacy professionals and its innovative development in the form "University – Employers" was held in the National University of Pharmacy. About 300 students participated in the conference. Traditionally, the forum was opened by the NUPh Rector, Professor V.P. Chernykh. In his welcoming speech Valentin Petrovich noted that it is necessary to prepare yourself for the professional activity since your first days of training at the university and thanked the employers who participate in the organization of career guidance week for extensive support of our alumni and long-term cooperation.
Honorary guest of the forum, former NUPh graduate, now director of State enterprise "Regional drug warehouse" A.P.Bakaev addressed his speech to the conference attendees. In particular he said: "At University you gain priceless luggage of skills and abilities that are needed in profession. That is why it is a must to seek for knowledge, work on its improvement and development".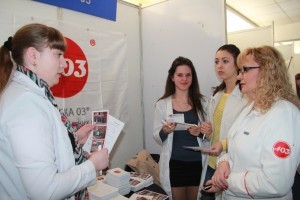 Words of gratitude to the sponsors of the event has outspoken vice-rector on scientific and pedagogical work, Professor A.A. Kotvitskaya. "Only combination of joint efforts can be the key to success", she said.
For the preparation of meaningful reports at the plenary session of the conference on the results of practice and proactive living position organizers put forward for a decoration:
Olga Kononenko (specialty "Pharmacy")
Irina Dubovskaya (specialty "Pharmacy")
Vyacheslav Kirilyuk (specialty "Management of organizations and administering")
Viktoriya Rastvorova (specialty "Marketing")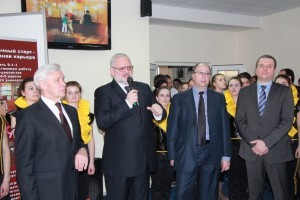 On the same day, April 19, with the participation and support of the Kharkov regional center of employment Job Fair was held in the NUPh.
To the opening of the Fair honorary guests – I.M.Shurma, Deputy Head of Kharkiv Regional State Administration; A.S.Tereshchenko, head of the State Service for Medicines in Kharkiv region; V.L.Minenko, Director of Kharkiv regional center  of employment; O.A.Kurbanova, Chief Personnel Officer of LLC "Ukrainian Pharmacy Holding", Donetsk – were invited.
In his welcoming speech, the NUPh Rector, Professor V.P. Chernykh noted that the pharmacy professional must possess a wide range of experiences and knowledge about medicines, be a psychologist, be able to make the right decisions when providing pharmaceutical care, constantly improve himself. "And, of course, you should possess such human qualities as compassion and mercy. Remember that to the pharmacy comes not a customer or buyer – but a patient, a pharmacist meets a patient there, but in no case a shop assistant".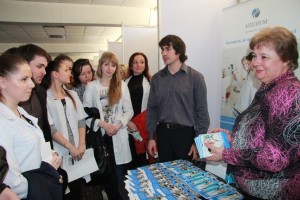 More than 30 employers, who provided nearly 56,000 current vacant positions, including more than 3.5 thousands in Kharkiv region, participated In the work of the Fair.
On April 20 the career guidance week ended with Open Day – Fair of specialties.
 FOR PARTICIPATION IN CONDUCTION OF CAREER GUIDANCE WEEK organizers express thanks to 
● social partners Kharkiv regional center of employment, represented by Director Minenko Vladimir Leonidovich and Kharkiv city center of employment represented by Director Pizhenko Sergey Viktorovich
● primary sponsor LLC "Ukrainian Pharmacy Holding" represented by General Director Zolotarev Yuriy Nikolaevich
● sponsor corporation "Arterium" represented by Executive Director Nazarenko Nataliya Petrovna
● primary information sponsor Internet service "Jobs in Kharkiv" represented by director Pozharov Dmitriy Sergeevich
● information sponsors web portal rabota.ua represented by Director General Mikhailov Nikolay Vyacheslavovich
 international group of HeadHunter companies represented by Director General Makovaya Marina Leonidovna
● partners PLC "Insurance company «PROVIDNA»" represented by Director of Kharkiv branch Soloshenko Andrey Yurievich
    LLC "UNITEMP recruiting company" represented by Deputy Director Fofanov Artem Andreevich
   head of Kharkiv trade union of foreign students Usov Sergey Vitalievich
● mediasponsors company "Morion" represented by General Director Kryachka Igor Vladimirovich
    magazine "Pharmacist practitioner" represented by senior editor Malyshevskaya Natalia Valentinovna
● heads of pharmacies who attended the conference on practical training
● specialists in recruitment of personnel for conduction of seminars and workshops
Pozharov Dmitriy Sergeevich, Director of Internet Services "Jobs in Kharkiv"; Shariy Valeriya Yurievna; Kutnyak Irina Viktorovna, manager of company «Studex»; Fofanov Artem Andreevich, deputy director of "UNITEMP recruiting company"; Ryzhova Elena Vitalievna, regional manager of recruitment agency "PHARMA PERSONAL" on recruitment in the east of Ukraine; Shenderey Tamara Aleksandrovna, manager on selection and assessment of staff of corporation "Arterium", PLC "Kyivmedpreparat"; Snizhko Tatiana Vladimirovna, HR-director; Yakovenko Anna Vasilievna, HR-business partner; Radko Alexander Petrovich, manager on work with key clients of LLC "Sanofi-Aventis Ukraine"; Mishustiniy Inna Nikolaevna, head of the department of social services for youth
● representatives of the practical of pharmacy, who submitted reports at the plenary meeting
Kurbanova Elena Alimivna, Chief Personnel Officer of LLC "Ukrainian Pharmacy Holding"; Shenderey Tamara Aleksandrovna, manager on selection and assessment of staff of corporation "Arterium", PLC "Kyivmedpreparat"; Gritsenko Sergey Viktorovich, head of "Central regional pharmacy № 63", Kupyansk city; Movsisyan Alina Garushivna, Deputy Director PF "GAMMA-55" "Pharmacy Chain 9-1-1"; Ryzhova Elena Vitalievna, regional manager of recruitment agency "PHARMA PERSONAL" on recruitment in the east of Ukraine
● NUPh pharmacy staff (deans, heads of departments, heads of structural subdivisions, practical training and employment assistance department, students- speakers)
[flagallery gid=21 name=Gallery]