On February 24, 2014 the Competition on Pharmacology for Ukrainian and foreign 3-rd yer students was carried out. 24 Ukrainian and 16 foreign students took part in the competition.
The winners of the Competition among ukrainian students are:
Ilona Voznaya, Irina Ogneva, Julia Noskova
The winners of the Competition among foreign students are:
Arkam Thabit, Ghosh Elie, Rami Amer
We would like to congratulate the student Akabi Krisna who took the 6-th place among the best 24 Ukrainian students.
March 25, 2015, awarding ceremony of winners of the 1st stage of the All-Ukrainian student's Olympiad in the academic year 2014-2015
On September, 1, 2012 at the Freedom Square a city-wide dedication to students took place.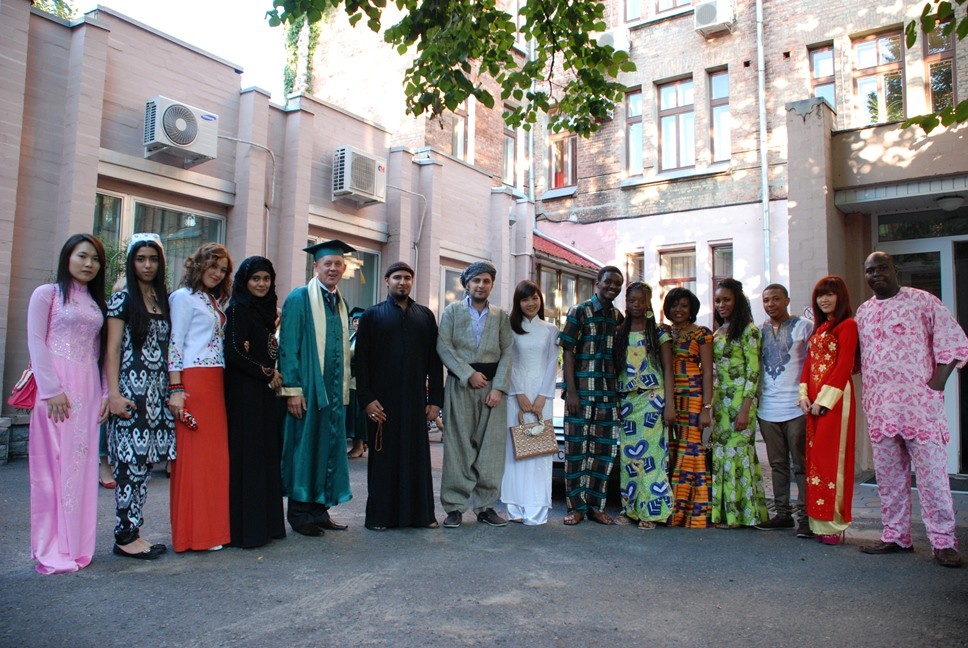 From left to right:
1. Le Thi Hien (Vietnam)
2. Mirzokarimova Ahdia (Tajikistan)
3. Abdullaeva Mahr (Turkmenistan)
4. Al-Zamadi Noor (Iraq)
5. Dean of the faculty of foreign citizens education, Associate Professor Goryachiy Vladimir Dmitrievich
6. Ali Nasser Jafar (Iraq)
7. Sadruldin Kafrin (Iraq)
8. Le Thi Kieu Loan (Vietnam)
9. Dekambi Dekat Delhas (Congo)
10. Aqabi Kristna (Congo)
11. Keseva Marian (Ghana)
12. Agvambu Christina (USA)
13. Kalu Khukvuma Dixon (Nigeria)
14. Pham Thi Fiong (Vietnam)
15. Eze Chukvunonso (Nigeria)
Members of NUPh team are students of Foreign Students` Training Faculty:AIT BEN LARBI AMINE, Morocco (5th year) – awarded "The Best player" Diploma as well
HARMACH KASEM, Morocco (4th year)
BOU NAYLAT SAAD-BOUKH, Morocco (4th year)
BEN AMOR ANOUAR, Tunisia  (4th year)
AIT EL BOUAB MAHJOUB, Morocco (2nd year)
BEN ATTOU ANASS, Morocco (2nd year)
YOUNESS LASRI, Morocco (5th year)
On March 23, 2012 – the Competition on Pharmacology for 3-years students domestic, as well as for foreign (at first) who are English-taught.
Responsible persons for the Competition preparation: assoc. prof. V.P. Vereitinova, postgraduate student А.Yu. Poznyakova; the great assistance in the terms of Competition preparation for foreign students has been provided by the administration of the Foreign Students' Faculty (assoc. prof. Yu.V. Shmyriova).