In the 2013-2014 academic year 843 students, including 606 – 24 graduates of medical and pharmaceutical colleges of Ukraine from 8 regions, entered the Faculty of Multicycled Pharmaceutical Education.
On October 15, took place the meeting of the NUPh Rector professor V.P. Chernykh with the first year students of the Faculty of Multicycled Pharmaceutical Education.
In the lecture hall were about 200 part-time students.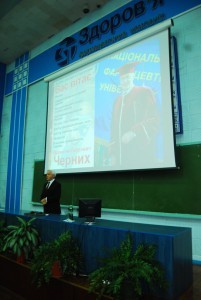 During the meeting Valentin Petrovich acquainted the first year students with the university, in particular with special aspects of educational process, specialties, facilities, living conditions, etc. Professor V.P. Chernykh introduced senior executives of the NUPh and heads of Departments, in which the courses are taught in the first year, to the students:
– You have made the right choice by entering the NUPh. Our University is the leader of pharmaceutical education, powerful scientific and educational complex, well-known not only in Ukraine but also abroad due to provision of all parts of domestic pharmaceutical industry and foreign countries with highly qualified specialists. The faculty staff of the NUPh, 94% of which are doctors of sciences, professors and candidates of sciences, associate professors – has the richest experience of training pharmaceutical personnel.
National University of Pharmacy is a member of international organizations, including international Association of Universities, European Association of Pharmaceutical Faculties, International Pharmaceutical Federation. In late September this year, the NUPh signed a Memorandum of joining the Magna Charta Universitatum – the most authoritative, powerful and influential association of higher education institutions in the world.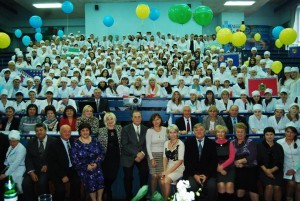 During the lecture-presentation of Valentin Petrovich the first year students were shown the evolution of Pharmaceutical University during all the years of existence, and were also presented the current state of the pharmaceutical industry:
– Pharmacy is multifaceted industry that dynamically develops. Today in its operation are involved 350 thousand workers. Pharmacy chain of Ukraine includes 21,993 pharmacy structures. In our state 1441 wholesale companies are working and 30 control and analytical laboratories are engaged in quality control. The industrial sector includes 180 pharmaceutical companies and 23 pharmaceutical factories. Educational and scientific segment of the industry is the NUPh, 20 pharmacy faculties in other universities of Ukraine, 3 centers for postgraduate education and 3 research institutes. Information field of pharmaceutical industry is represented by 70 specialized publications.
30% of specialists with higher pharmaceutical education are working in the pharmacy chain, and 6% in chemical and pharmaceutical industry. The strategic goal that the industry community sets is to increase this figure up to 50% of employees with higher education by 2015.
On behalf of the faculty staff of the National University of Pharmacy Professor V.P. Chernykh wished the first year students health, academic excellence, desire to achieve professional heights! «Cum Deo!» – With God!
[flagallery gid=25]